About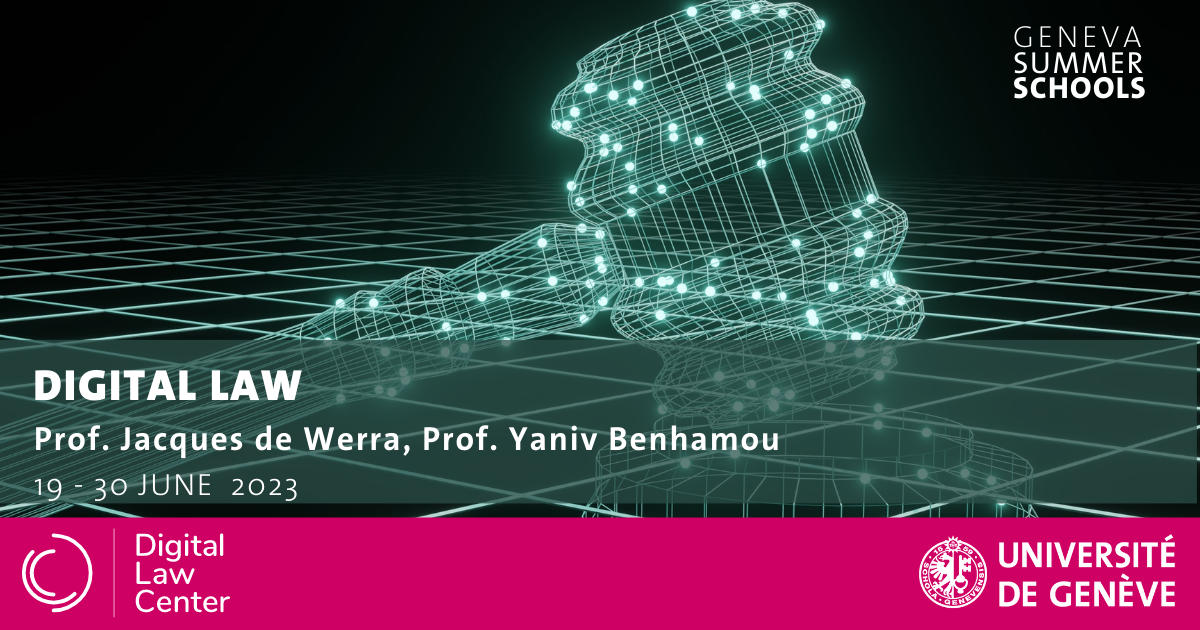 Topics that will be covered include cybersecurity, artificial intelligence, big data, digital privacy and online surveillance, free speech, consumer protection, legal issues of social media, Internet and telecom infrastructure, data protection, intellectual property, antitrust, and much more...
This is a unique opportunity to gain hands-on experience in the framework of a Digital law clinic and to discuss cutting edge Digital law and policy issues with academics (including researchers participating in the Digital Law Research Colloquium), practitioners, representatives of global policy makers, international organizations and leading institutions, including the Berkman Klein Center for Internet and Society at Harvard University, the International Telecommunication Union (ITU), the World Intellectual Property Organization (WIPO), and the Geneva Internet Platform (GIP).
In the previous years (2014, 2015, 2016, 2017, 2018, 2019, 2020, 2021 and 2022), the Digital Law Summer School (formerly Internet Law Summer School) gathered a group of highly talented participants from very diverse backgrounds and countries, including Argentina, Austria, Brazil, Chile, China, Egypt, Estonia, France, Georgia, Germany, India, Indonesia, Israel, Italy, Jordan, Lithuania, Moldova, Pakistan, Romania, Russia, Saudi Arabia, Somalia, the Netherlands, the UK, the US and Ukraine.
The summer school includes an exciting programme and affords the fantastic opportunity to build a global network of new friends as well as of Digital law and policy experts.
Useful informations
Website of the Geneva Summer Schools : Geneva Summer Schools - Digital Law !
We are delighted to announce that the 2023 edition of the Digital Law Summer School is returning to its usual face-to-face format!
Flyer of the Digital Law Summer School Online
Students of the summer school will receive a certificate for completing the summer school if they meet the compulsory attendance requirements. Please note that this is not an official University of Geneva transcript, as Geneva Summer Schools courses are not accredited University of Geneva courses.
Please note: Changes to the draft program may be made at any time prior to the start of the course.
Program
Admissions and registration
TUITON FEES
Professionals :
CHF 1600*
External Students :
CHF 1300*
UNIGE students :
CHF 250* (Note for UNIGE students: you need to submit only your -1- CV and your -2- letter of motivation. UNIGE students don't need to submit a letter of reference.)
*Including 100 CHF non refundable administrative fees
Course + Accommodation Package
More information available : here
Contact & informations
digitallaw

unige [point] ch
Previous editions